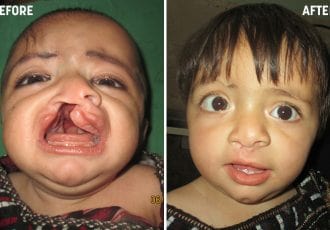 Sponsor a Cleft Surgery
Cleft lip and cleft palate (where the two sides of the upper lip or roof of the mouth fail to join) are a common problem. Children born with these conditions have difficulty breastfeeding and are often chronically malnourished. Later, an untreated cleft can cause a speech impediment, as well as dental or middle ear problems. Even more tragically, the children and their mothers are sometimes shunned by their families or society for this deformity.
CLEFT LIP & PALATE FACTS
Annually 9,000+ children are born with Cleft Lip or Cleft Palate in Pakistan.
Only 40% get treated and 60% are being neglected every year.
90% Children belong to low income group families.
OUR SERVICES
Al-Mustafa Welfare Society has been doing free cleft surgeries throughout Pakistan since year 2006. We have successfully performed 43,632 free cleft surgeries yet. We carried out more than 7,500 surgeries across 2015 and 2016. This is the highest recorded number of cleft operations performed throughout the world. Al-Mustafa Welfare Society also has a vast experience of organizing free medical camps throughout Pakistan. We have successfully organized 254 free cleft surgery camps across the country, focusing the rural and suburban areas where people live in extremely underdeveloped conditions and are economically very poor. In these camps patients are examined and provided free prescribed medicines and our surgeons perform free surgeries in our mobile operation theater.Al-Mustafa Welfare Society has the privilege to work with two of the best Plastic Surgeons in Pakistan that is, Professor Dr. Ashraf Ganatra and Dr. Ghulam Qadir Fayyaz. Both of these plastic surgeons have excelled in their field and are a complete institution within their selves. Our respectable surgeons are not only the masters of plastic surgery in Pakistan but they have also been recognized internationally. Our Sindh Cleft Project is being run by Professor Dr. Ashraf Ganatra, while our Punjab, Kashmir, Baluchistan and KPK Cleft Project is serving the humanity under the supervision of Dr. Ghulam Qadir Fayyaz.
Cost = PKR35,000 / $234